Potato cyst nematode resistance
Potato cyst nematodes are major pests of potato in the UK causing significant economic losses. Their occurrence in Scotland is increasing, particularly the pale potato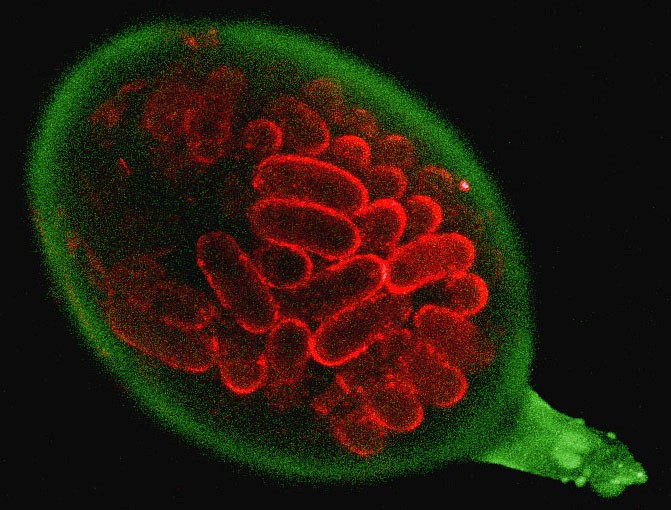 cyst nematode (wPCN) Globodera pallida, and with further spread there is an increased risk of loss of seed land.  This situation is exacerbated as there are few potato cultivars that combine good agronomic characters with high levels of resistance to wPCN and there is increasing pressure to reduce and prohibit the use of nematicides. 
While resistance to the yellow potato cyst nematode (yPCN), G. rostochiensis, has been highly effective and durable in the UK, the more complex composition of G. pallida populations in the UK and the lack of sources of single major gene resistance has made breeding for G. pallida resistance more difficult. To prevent further spread and suppress multiplication, breeding potato cultivars with durable and broad-spectrum resistance to PCN is a high priority.
Monitoring the distribution and composition of PCN field populations is key to the assessment of the effectiveness of control strategies, including the deployment of resistant cultivars.
For further information, contact Vivian Blok.
Publications:
1. Skelsey, P.; Kettle, H.; MacKenzie, K.; Blok, V. (2018) Potential impacts of climate change on the threat of potato cyst nematode species in Great Britain. Plant Pathology. Published online. DOI: 10.1111/ppa.12807
2. Rigney, B., Blok, V., Griffin, D., Dalton, E. & Milbourne, D. 2017. Consistent action of two partially effective loci conferring resistance to Globodera pallida Pa2/3 across multiple nematode field populations. Plant Pathology 66, 1031-1040.
3. Eves-van den Akker, S., Lilley, C.J., Reid, A., Pickup, J., Anderson, E., Cock, P.J.A., Blaxter, M., Urwin, P.E., Jones, J.T. & Blok, V.C. 2015. A metagenetic approach to determine the diversity and distribution of cyst nematodes at the level of the country, the field and the individual. Molecular Ecology 24, 5842-5851