Welcome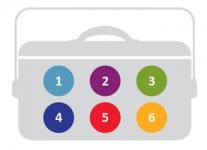 Integrated Pest Management (IPM) is an approach to managing the impact of a crop's pests, pathogens and weeds that achieves environmental and economic sustainability. IPM strategies combine available methods (IPM tools) for monitoring, predicting risk and control of pest, pathogen and weed populations into programmes (IPM toolboxes) where the tools operate synergistically to reduce environmental impact and economic risk.
At The James Hutton Institute our vision is to be at the forefront of innovative and transformative science for sustainable management of land, crop and natural resources that supports thriving communities. IPM is an essential component of this vision. We carry out research in multiple areas both to generate and improve specific IPM tools, and to combine together components of sustainable integrated pest management to create toolboxes of flexible solutions, that when deployed together, are more effective.
Read more on what IPM is and why it is important.
News

Inaugural IPM@Hutton and CSC stakeholder group meeting
Over the latter half of 2018, the Integrated Pest and Disease Management Strategic Group (IPM@Hutton) and Centre for Sustainable Cropping at the James Hutton...